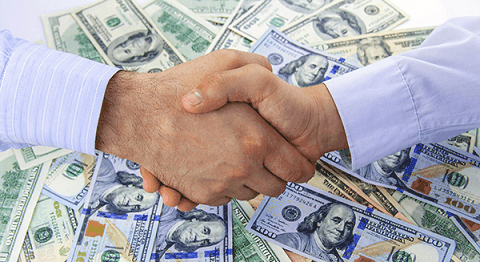 Are you worried about your bad credit history while applying for unsecured business loans? Well, you have no need to worry because qualifying for business loans is now easier. Welcome, to all small and medium size business owners in USA, Money Man 4 business employs a new approach towards its merchants.
Money Man 4 Business has a portfolio with more than 40 different business loan programs, which is why we apply a new approach towards our prospective clients and consider different factors such as the Type of Business, Time in Business and Annual Gross Revenues. It is noteworthy that we do not give great importance to bad credit history and simply don't disqualify a borrower on this criteria. In fact, we consider the aforementioned factors too while approving a borrower's application for loan. We understand the fact that businesses, due to market risks, may sometimes find it difficult to arrange money to provide for their immediate or long term needs. For instance, they may need cash to buy raw materials and keep the production cycle going on and so that they can complete orders and get the revenue. In this way they are able to keep themselves in business.
Another example of a business that require an important machinery that is crucial to the production process and if the owner still hasn't received a big amount in form of advance, the production process may not start. The entrepreneur can lose the particular deal and therefore he may require instant cash. In both prior mentioned examples, the business owners may have a bad credit history in the recent past, but Money Man 4 Business also offers a special program for bad credit Business Loans and we also process fast business loans in an average of 5 business days.
True small business loans are available from a period of 4 months and can go up to 60 months, these funds can be used at your own discretion to take care of your different business needs. There are some businesses who use this money for remodeling or for renovation of their existing locations, Inventory, Equipment purchasing or to increase their cash flow. On some businesses is very important to have availability of products and must have a large inventory. In such a scenarios and more the business owner can apply for short term business loans after submitting the required documents and get approvals with no upfront application fee.
The best part about these type of business loans is that the applications are reviewed in a short period of time. Credit Committee takes 2 full business days to review the application and provide you with the approvals. This is a very important fact as they consider time very valuable. The funding of these bad credit business loans, given that all the prerequisites of the approval are met, can get done in 3 business days. The bottom line is that bad credit history is not a disqualifier for loans and if application is approved, then loans are provided in a short period of time. The medium and small business lending are very important for the market.
So, getting a business loan is now easier with the presence of Money Man 4 Business in the market. If you are in any need of an immediate business loan and think your credit is not the best, you can easily apply here. Our decisions are based on type of business, time in business and Annual Gross Sales.