Revolving Business Line of Credit
Do you need Cash flow to Hire more employees or increase inventory levels? Have you got a plan of expansion of your business or renovation or new equipment or a new location to take your business to the next level but you do not have that much capital. Do not worry, Money Man 4 Business have got your back. Our Revolving Business Line Of Credit Program can get you up to $750,000 without any collateral. Use the fund when needed and pay the interest of how much you borrow. Approval time maximum 24 to 48 hours.
Business owners are still taking the Revolving Business Line of Credit Even if they do. not need the capital right away. Because opportunities and issues does not arise with notification. So smart business owners tends to be prepared always.
Usage of Working Capital
A revolving business line of credit is like a credit card which gives you a maximum limit. Use as much as you need when needed and pay interest only for the withdrawn amount. In this Revolving Business Line of credit, Business owners have 24 hours access to 5 separate loan drafts for a 6 months period and also you can withdraw fund online as well.

Loan size
A Revolving Business line of Credit can be larger or can be small as $10,000. When it comes to larger Line of credit, that means a big investment and that can't be achieved by any merchant cash advance program. Money Man 4 business BLC can get you up to $1,000,000 with 36 months terms. Revolving Business Line Of Credit loan amount average size is 6 time larger and repayment terms is 3 times longer than cash advance programs. Usually when businesses take larger loan amount that means they can invest in growth of the business which will improve the business overall profit. Check out the difference between Revolving Business Line of Credit and Merchant Cash Advance In below figure.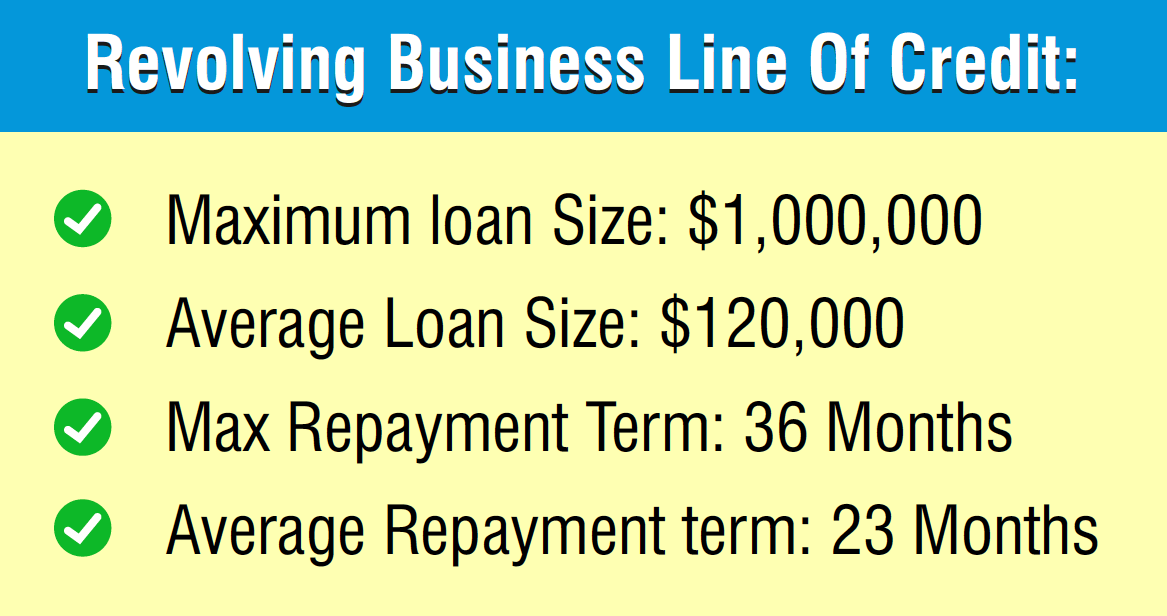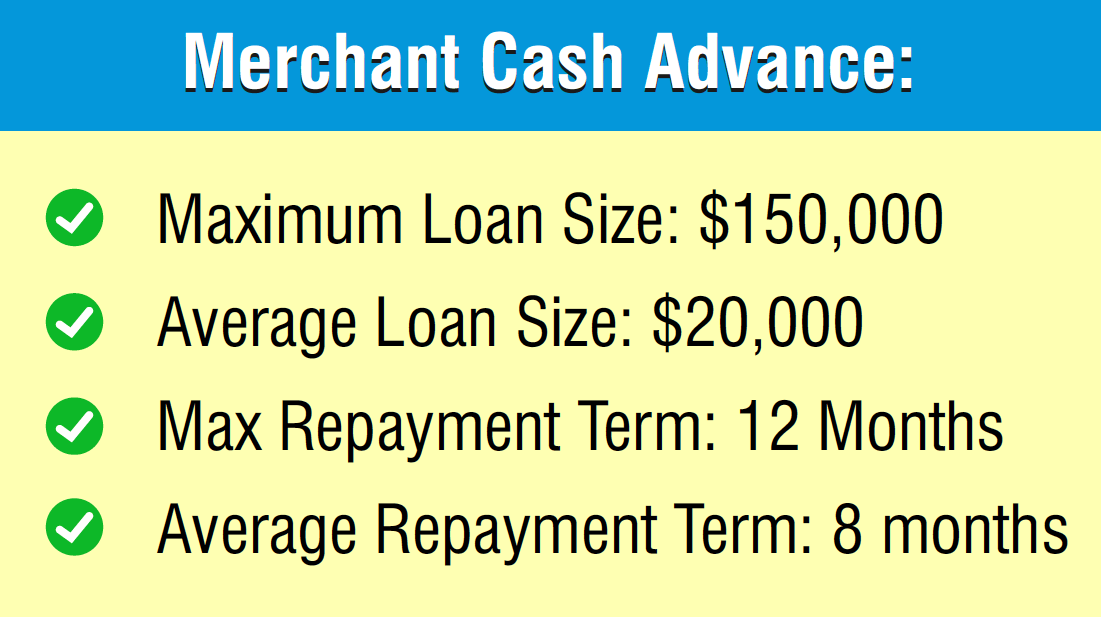 Take The 3 Minutes Eligibility Test without affecting your credit score.

Benefit Of Borrowing Loan Amount $100,000 or More
Get an $1000 Amex Gift card if you borrow more than $100,000 within 30 days of your completed Application. This is a very limited time deal.
Terms and Condition Apply*
 Revolving Business Line Of Credit Advantage:

Revolving Business Line Of Credit Loan Amount Starting from $5000

Max Loan Amount $750,000 without collateral & $1 million with collateral.

No Collateral Required.

Repayment Term up. To 36 Months

Get the best rate for the next 6 months with a minimum first draft of only $10,000

Fixed Weekly Repayment

Quick Online Approval

Funding within Less than a week

Interest amount is tax deductible

Early payoff is available

You can be defer up to 50% by combining our BLC with Flex Pay Plan.
Usage of Revolving Business Line Of Credit
At Money Man 4 Business, We understand how restaurants and other Small Businesses can quickly change. That's why Revolving Business Line of Credit can be a powerful Finance tool that can help Restaurants and other small businesses towards overall growth. Having Access to the Revolving Business Line of credit make them ready for any situation for an example: unexpected expenses or expansion or any new opportunity expenses. Check below for the usage of Revolving Business Line Of Credit.
Pre-Qualification Questionnaire
At Money Man 4 Business, we take businesses very seriously. Our online Pre-Qualification Questionnaire is very easy and easy to find on our website. All you need to do is click on it and fill it but ensure you are answering correctly all the questions being asked in the e Pre-Qualification Questionnaire (PQQ), including your existing Experian credit score. This "PQQ" will not affect our credit score & no inquiry. That's it. After the application, you will wait to hear from us within the next 48 hours. If you have any questions while filling out the Pre-Qualification Questionnaire, feel free to text us at our number 281-801-6876.
We are available during working hours Monday – Friday, 10:15 AM to 7:15 PM Central Time Zone. We service businesses in all mainland states, Puerto Rico & Hawaii.